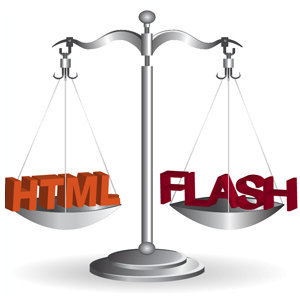 HTML and Adobe Flash are both technologies that web designers use in order to create effective content on the Internet. But it is fact that HTML outweighs in relation to flash and as the web development industry evolves, more and more web designers are leaving Flash development and turning to HTML. Below are the top five reasons that HTML is better than Flash:
1. Browser Support
HTML has been developed by many web developers and it is more upgraded and unique than Flash. All modern browsers support a website that uses HTML.
2. Mobile Support
HTML is the most mobile - ready tool for developing mobile websites and applications, while mobile browsers have fully adopted HTML. On the contrary, Flash is not supported by iOS and so a Flash file cannot run on an iOS device such as iPhone and iPad.
3. Improved Interactions
Through HTML, you can build responsive websites that interact with the Internet user. In contrast with HTML, Flash runs very slowly on some platforms such as Linux and Mac OS X since it does not have access to Graphics Processing Unit (GPU).
4. Better Storage
HTML allows for storage across multiple windows, has better security and retains data even after closing a browser. Through storing data in the user's browser, you can easily create app features like: storing user information, caching data, loading the user's previous application state.
5. Power Consumption
Flash also consumes more power and is not compatible with a touch screen. Because of this, Flash causes a device to heat up. On the other hand, HTML is compatible with touch screens and does not have any issues with any device.