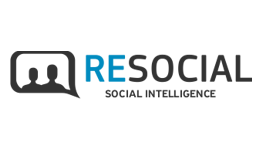 Resocial, an incredibly friendly interface that anybody can understand with strong analytics.
Real-time streams and analytics are a click away. Filter your streams by platform, sentiment or influence. Monitor the evolution of your company, vs the competition.
Visit Website
The Whole Web In Real Time
Your customers or fans talk about your company and your brands everywhere on the social web. Resocial dashboard helps you be where they are. We monitor everything in Real Time.
Resocial also identifies the key people talking about your brand and products, how often they react with and how they feel about that.
Visit Website
Identify key Influencers
Identify key influencers on a topic, engage them and then spread your message to their friends like never before. Resocial uses Klout API to measure influence online using data from social networks.
We process this data on a daily basis to give you an updated Klout Score each morning.
Visit Website
Engagement
You can use Resocial dashboard to real-time response to mentions on your brand. Engage your community by getting your whole team on Resocial and let them play!
Have you find something interesting on your searches? Inform your team by setting up a task, and collaborate to response. All in one dashborad!
Visit Website
Subscription based billing
Resocial supports a subscription based billing system. It's never been so easy to update and manage your subscription in just a few easy steps. When a subscription expires, access to the Resocial dashboard is no longer available until the client updates his subscription.
All payments are handled securely through the PayPal gateway and subscriptions are updated automatically.
Visit Website
Incredibly friendly user-interface
Resocial has an incredibly friendly user-interface that isn't only extremely useful, but indisputably attractive as well.
A good Web application or Web interface should fulfill user requirements with a simple,  intuitive, and easy-to-operate, yet a comprehensive interface. This calls for a mix of Web development and Web design skills coupled with an appreciation of how the business works.
Visit Website